Process Integration
OptiY® is an open and multidisciplinary design environment, which provides generic and direct interfaces to many commercial CAD/CAE-systems or in-house codes. The integration of any system into an arbitrary process chain is very easy by the graphical workflow editor. Collaborating different simulation model classes is possible as networks, finite-element-method, multi-body-system and material test bench as control optimization for drives etc.
Pro/Engineer

Catia V5

Unigraphics

etc.

Ansys

Abaqus

Nastran

etc.

SimulationX

AMESim

Dymola

etc.

CST Studio Suite

Maxwell

JMAG

etc.

CFX

Fluent

Star-CD

etc.

Adams

Simpack

RecurDyn

etc.

Matlab/Simulink

Comsol

Mathematica

etc.

AWR

PSpice

LTspice

etc.
Process Workflow
The multidisciplinary simulation and optimization process is presented as a graphical workflow by the Workflow-Editor. Predefined nodes can be inserted and edited using drag & drop with the mouse. Assigning to extern simulation programs is very simple. In a project, a customized multi-experiment is possible using the comfortable Script-Editor. The parameters and results of different experiments can be coupled and exchanged using its COM-interface. Within, conditional loops of experiments are programmable.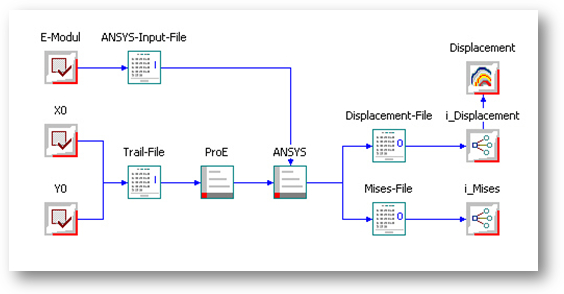 User Integration
A User-Node with a predefined template is available in OptiY. Within, user can self-integrate extern CAD/CAE-programs for ease of use. The programming language is either Visual Basic or C# and bases on the powerful .NET Framework® technology. User can access to a large number of the .NET-libraries. The communication to OptiY is realized by its COM-interface. The free and comfortable development environment "Visual Studio Express Edition" from Microsoft® can be used for this self-integration process.